These are my personally made videos ....Hope you enjoy them!

Here is me with my Christmas presents...casting gloves and work light.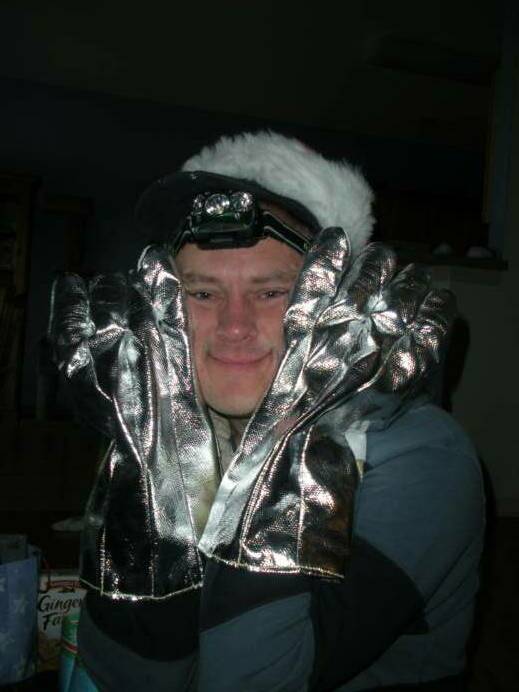 Casting a brass Plaque using lost foam.  Please note that I do not encourage anyone to pour this way...You should have more protective gear!

Here is the shakeout from this pour.

Pewter bell...3 part video.

Share this page

to Facebook!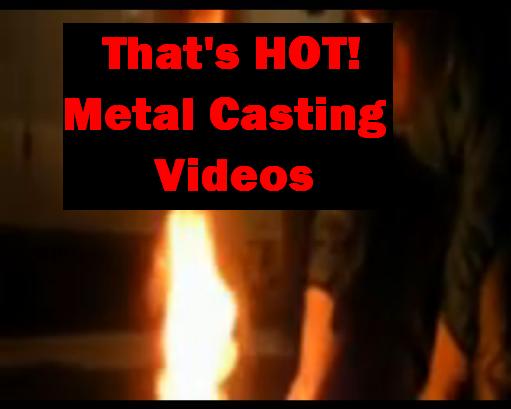 This video shows why it can be a bad idea to mix unknown metals...

Gary from the castinghobby Yahoo list scanned this metal and here are the results:

We brought the sample into the field of the Death Ray and got the following

results. All elements that responded are listed but in the case of an element

marked <LOD> the elemental trace even though it was present was less than the

Death Ray Threshold. The Error shown to the side is essentially the Standard

Deviation and the reported value +/- the error has a 99.73% propability of being

correct, You could think of it as the content range of the element.

The results of the test only report what is present in the sample and not

necessarily what is in alloy solution. For example W is reported as being

predent in trace amounts but it is very unlikely that it is in solution with

anything. It is more likely that it is present as a residue from a carbide tool

used to machine some of the scrap or something similar in the past. When we

first started using the gun we had some readings that were so high for Si that

they could not be believed. Doing a CSA (Common Sense Analysis) something was

wrong. What we found was that the operator was sanding the part to remove

surface rust with Silicon Carbide paper and the gun was picking up the residue.

Results are:

Element % Error

Zn 52.107% +/-0.207%

Cu 44.337% +/-0.231%

Pb 1.957% +/-0.033%

Al 0.760% +/-0.331%

Ni 0.412% +/-0.010%

Sn 0.134% +/-0.008%

Fe 0.120% +/-0.008%

Cr 0.062% +/-0.007%

Co 0.036% +/-0.013%

Ti 0.032% +/-0.004%

Zr 0.003% +/-0.001%

W <LOD> 0.231%

Si <LOD> 0.087%

Mn <LOD> 0.034%

P <LOD> 0.030%

Ag <LOD> 0.017%

Bi <LOD> 0.016%

Sb <LOD> 0.014%

Pd <LOD> 0.010%

V <LOD> 0.008%

Se <LOD> 0.005%

Ru <LOD> 0.003%

Mo <LOD> 0.002%

Nb <LOD> 0.002%

S <LOD> 0.001%

Mg <LOD> 0.001%

The Death Ray Software tries to alloy match this to the closest commerical alloy

that is in its database which is fairly extensive. Sometimes thaer will be no

match especially ifsurface contamination is high. In this case it alloy matched

to C342PbBs or C332PbBs.

gary

How to make my oil burner

This video goes from start to lighting the burner.

This video shows how I made some iron crosses...lost foam cast using aluminum...from start to finish.

How to make a glycerin/gelatin reuseable mold material.

This is a video on how I make Flasks for sand casting

This one shows me using the new flask to make a fish feeder for our aquariums.  Poured with pewter.

This one shows my vacuum casting setup.  I am pouring monster teeth.  Poured with pewter.

My email platform stopped allowing me to send out my e-zine so I have set up a Google+ site to keep everyone updated with my latest projects and to interact.  Click "follow" below to get updates.